Dad's Day-
It rained all night long. I was wondering what that would do to our canyon, but was assured by the guides (Andrea and Devid) that it would not be a problem at all. We drove to the half way point to check the water flow and the guides started speaking feverish Italian. I also checked the water and could tell that the chocolate milk colored water was running high from last night's storm. Andrea said that we were all very experienced canyoneers so it would not be a problem. Then we let him know 2 of the 5 were beginners with swift water and canyoning. His expression changed and he said we will make it work.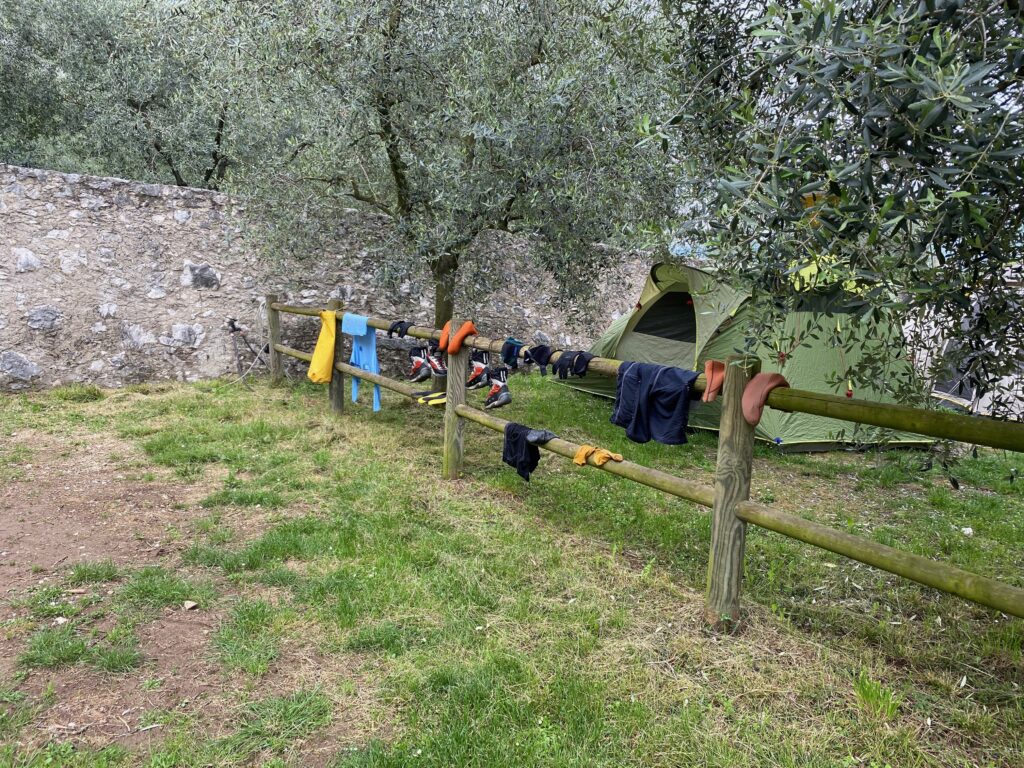 The waterfalls were big and the water was pushy. You had to be careful not to get pushed over the next set of waterfalls. Andrea and Devid did a great job helping us all get down the canyon. We made it half way before they said we could go no further. The canyon would get much harder downstream and was no place for beginners. We decided to call it a day and the whole group took out of the canyon at the half way point.
Tirzah's Day –
Henry (9) and Finn (11) had to go to school. Anna Kate (14) got to stay home. Each day a different kid got to stay home. It was Anna Kate's day, so we (Mrs Amy/Aunt Jane/Anna Kate/me) went for a bike tour. We all got on bikes in the rain. Aunt Jane got to learn how to ride an electric bike. There is a computer on it that controls an electric motor that will give you extra power as you pedal. I had to learn how to use the mountain bike brakes. We biked through the streets and made lots of stops to look at stuff. Then we went off road in the grass to a picnic area. There was lots of ducks there that wanted food. We stopped by the lake. We crossed bridges and saw swans with lots of babies! We made it to the bike farm, a place you can eat a bit and see lots of animals. We had to lock all the bikes up to eat. A lot of bikes get stolen every year in this area. When we got home, we had to lock the bikes up again in the community apartment garage.
I taught Henry and Finn the plane game. You take a paper airplane and try to hit someone else. As soon as you hit them they are it. Then you run all over the house trying to hit each other. It is so fun. Later Henry and Aunt Jane played the piano.