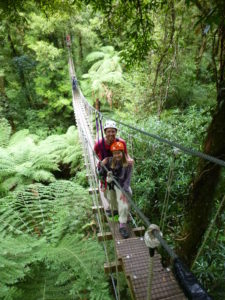 We have always called Sydney, our zip line girl. From the time she could speak she would beg to take her turn on any zip line I set up or we happened to be near. When traveling once, we found ourselves at a camp in South Carolina. Sydney was around four years old and there was a very long (~1.5 football fields length) and very high (~150ft) zip line that ended by splashing down into a nearby lake. All of our kids were a little scared of the zip line, except Sydney. She pleaded to go first and flew down the line squealing. She had so much fun doing it that all the other kids got excited to follow her example.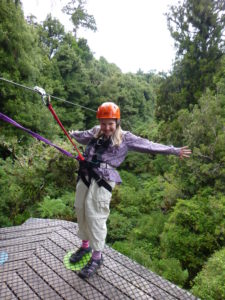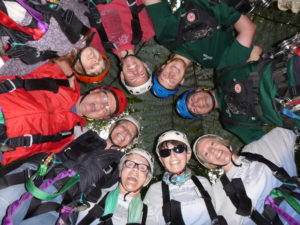 When doing the research for our New Zealand trip, Sydney said the two main things she wanted to do on the trip were to visit Hobbiton and do a canopy tour. We scheduled our trip around those two things and both turned out to be even better than we expected. For our canopy tour we went to Roturoa on the North Island. Arial and Gary were our tour guides and they were exceptional. They infused our eco-education with non-stop laughter. Sydney LOVES to laugh as much as she loves zip lines, so she was smiles the whole tour. After being clipped into the safety wire, Sydney would march right off the tree platform into mid-air. It was fun watching the rest of our group watch her excitement.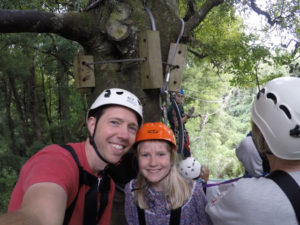 Our tour was through a native New Zealand forest, which is a very rare thing as only 5% of the North Island's native forests still exist. We learned that long ago, when Captain Cook sailed to New Zealand, he said the sound of the birds was deafening from two miles off shore. As we were told this fact, the forest was quiet (no birds were singing). Man along with the predators he introduced (rats, possums, and weasels) have decimated New Zealand's native species of birds, making the forest quiet. Gary is part of those leading the charge to take back their precious New Zealand from the predator threat. They are doing this through high tech traps to destroy the pests that are destroying New Zealand. They work is making a difference we could see and hear, as on our tour we got to enjoy the musical fruit of all their labor.
Check Rotorua Canopy Tours out here: http://canopytours.co.nz
Sydney Take: I love zip linning! It was so funny to see Mr. Gary and Mr. Ariel together. After six zip lines and two bridges, I wanted to keep going. On our tour we got to feed a North Island robin. All you had to do was hold out your hand with food and it would dart into it. I thought Chloe would love all of it. I want our whole family to go back to New Zealand one day so we can all have fun together.