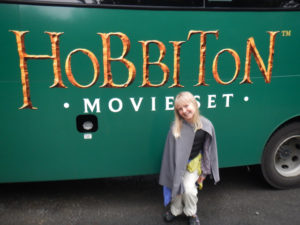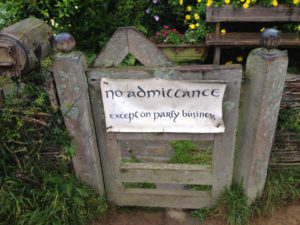 The big day was upon us! Sydney was so excited that her smile wrapped all the way around her head. We were one of the first people on-site and we had signed up for the first tour of the day. If you ever go, be on the first bus. This allowed us to have Hobbiton to ourselves. We did not even know how wonderful that was until later, when hundreds of people overflowed the place.
Hobbiton was pretty incredible. For the Lord of the Rings they made the whole movie set out of foam and then destroyed it after the movies were made. People loved the movies so much that in 2002 they started showing up at the farm just to walk around the pasture where the movies where made, even though there was nothing there but farmland. The farm owners were brilliant and partnered with Peter Jackson the film director, making the movie set for the Hobbit film series out of permanent materials (wood, stone, tile, shingles, thatch). It takes an army of people to keep the twelve acre area alive, but I am sure it makes millions for the owners and for New Zealand tourism. Hobbiton was the main reason Sydney came to New Zealand and we met many others with the same story. The rest of the 1250 acre farm is still thriving in the sheep and cattle industry, so it is the best of both worlds (tourism and industry).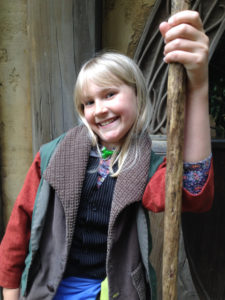 My favorite thing in Hobbiton was watching the excitement on my Sydney. She was so giddy and happy, litterally bouncing from one hobbit hole to the next. Her excitement was contagious and many smiled as they saw her hobbit cloak flying about. Another fun thing was the tavern at the end. The detail in the wood working was impressive. I went all over looking at how the windows and doors were made. I think some of those features would make a great addition to a costume house.
Sydney's Take: I LOVED IT, ALL OF IT! I loved the inside of the dragon inn. I loved all the hobbit holes. I loved dressing up in hobbit clothes. I loved going inside the little hobbit holes. I wanted to go into bag end, but no one was allowed, except on party business. Miss May did our tour and did a good job, but not as good as Miss Jeanna did the day before. I wanted daddy to come in all the hobbit holes with me, but he was way too tall, so he took pictures instead. There was a gift shop, but everything was so expensive. We could have bought a hobbit cloak there for $900.00!