Our camp on the edge of Tekapo Lake is one of the most scenic camping spots I have even stayed in. The water was so glacier blue that it seemed like it must not be real. It was only when you try putting your body in that water that you understand how real it is!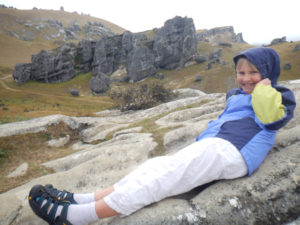 Sydney and I are learning that driving takes much longer in New Zealand. Before we left we used google maps to plan out our entire trip. This helped us create a sane itinerary, from a driving time perspective. What we are learning now is we should have at least doubled the drive times that google maps gave us. What we thought would take two hours, really takes somewhere in the neighborhood of four to five hours. Google maps did not account for the max highway speed of 50 kilometers in town and 100 kilometers in the country, the countless one way bridges where you have to wait for the on coming traffic to finish, the unrelenting curves/switchbacks/steep grades… All this means what we though would be five hours in the car a day is looking more like eleven to twelve. It is what we signed up for and Sydney is taking it all in stride. She is even enjoying the super curvy roads that almost make the driver sick!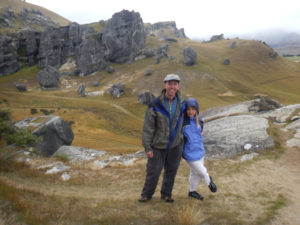 We had rain off and on along our route up to Castle Hill. When we got there it was raining and we were not sure we wanted to get soaked walking around. So, we prayed and the sun came out and allowed us to enjoy a very beautiful boulder filled experience. Sydney loved crawling through the cracks and sitting in the boulder holes. There were fixed anchors at the top of most of the rocks too, so with more time we could have done some fun climbing and rappelling there.
Cave Stream was only five minutes up the road so, we decided to go check it out before it got too late. It was 2p when we got there. Cave Stream is one of the free adventurous things you can do in New Zealand. It involves walking down a mountain and then walking through a cave raging with water underneath the same mountain until you pop up the other side. It turned out to be incredible. You walk through a pitch black cave that narrows to three feet in spots with the water raging under you (ankle deep in most places, though it did get up to our shoulders in one spot). You have to climb waterfalls and explore tunnels along the route. The grand finale is a twenty foot water that does not look possible to climb. Looking around you will find a ladder cemented into the cliff wall. You climb this ladder right beside the pouring waterfall up to a chain along a narrow traverse, which you use to inch along the top of the waterfall until you make it safely out of the cave. All went well and Sydney was leading the way. At the top of the waterfall Sydney decided to give me heart failure. She was hot and the pool just above the waterfall looked inviting, so in she plopped. The pool was fairly calm, but her toes were basically hanging over the waterfall which had a good current pouring off of it. It would have been a very unenjoyable trip to pour over that waterfall through the catacomb of rocks in it. She got out as soon as she saw I was not comfortable with her selection. Then she moved up the stream a little ways and we were both very happy.
Sydney's Take – I loved the crack in the rock in Castle Hill. I went in as far as I could before I would have actually gotten stuck. The donut rock I sat in was also super cool. I LOVED Cave Stream!!! The ladder and chains section was my favorite. It was also fun to walk against the raging water. Taking pictures is becoming a new hobby for me!