We have been "Freedom Camping" this whole trip, which means we have been tent camping in legal areas around the country. The areas are far apart and usually off the beaten path. Leaving Milford Sound around 6p and then getting caught in the traffic jam, I knew we would be getting into camp late. Driving on the left side of the road has had enough of an adventure element to it that I have not desired to add night driving to the mix. So, I did my best to get to our next camp before the sun completely set. Sydney has been incredible in helping me find camp. We do not do smart phones, but on this trip we were given an old phone that we added all the NZ Freedom Camping maps too. The GPS still works in the phone, so we can pull up the maps offline and it will track our location on the map. This is the only way we would have found 90% of our campsites. So, she tracks us on the map and I try to make all the correct turns needed to get there. We made camp and pitched our tent just as the sun completely set, thank you Jesus. I was a little hurried setting up the tent, so I apologized from my impatience while setting things up and we settled into a much more Sydney pace to enjoy the experience.
The next morning found us beside a pretty lake. There was a New Zealand South Island robin that hopped all around, even on our feet. We took a walk through the woods to a lookout over the lake and just had an all around easy morning. When we got back to the car Sydney wanted to go for a swim and I told her to go for it. The water is the warmest we have seen in New Zealand, but the air temp was about fifty degrees. I had left all my warm clothes in the car that night and frozen in the tent all night, so I was not interested in being wet in fifty degree weather. Sydney however had a wonderful time wading and swimming in the lake for about an hour. She was so happy, probably because we were not driving and we were within an hour to our next destination. I on the other hand was covered in sand gnats, running back and forth along the shore, much to Sydney laughter. She got a little taste of them too when she got out of the water though. While drying off and getting in the car the sand gnats poured in. You could hardly see your feet through the sand gnats in the car and everything that moved was biting. It was fun though to rub your hand down your leg or arm and kill twenty to fifty at a time. I was enjoying smashing them and got lots of opportunity as we drove to our next adventure.
We made it to Clifden Cave in about forty-five minutes and fell in love with the rolling hills filled with sheep. It was so picturesque. We watched two girls in shorts and flip flops try the cave, to return in five minutes saying it was super intense and they were not prepared for it. Sydney was a little scared by their review. I kept encouraging her though. We had done our homework and were prepared. We had cave helmets, two light sources, water, snacks, long pants/shirts, and a spirit ready for adventure. We entered the cave and it was well done. It takes about an hour to make it through the 600 meter journey and there are markers throughout the cave to keep you on track. There are ladders to climb, belly crawls, lots of pretty stalactites, a large underground pool to traverse around, and an underground river to spice things up. Half way through Sydney was having a great time and really leaning into the adventure. The underground pool was a little sketchy as the traverse was on a very small ledge via slick rock. We almost fell in and I got a chance to remind Sydney that the only thing that would happen is we would get to go swimming "again" that day! At the end of the cave were the glow worms. These worms spin a spider like web that hangs from the ceiling. The worms glow in the dark, so when insects are attracted to the glow they get caught in the web to become the next meal. Turning off your torch (headlamp) will reveal a multitude of glow worm "stars" in the cave. I was mesmerized by them and wanted to spend a lot more time checking them out. Sydney wanted to keep moving, so we did. When we got out of the cave our empty parking lot was filled with cars. We had the cave all to ourselves and loved it. Now there were several different groups heading in. Sydney and I people watched for a bit with much laughter. The cave was full-on caving, meaning you will get muddy and have to squeeze through tight spaces. There were people entering the cave with no light, with very nice clothes/shoes on, with a body that would not fit through the spaces. We would analyze the group and then make a prediction on the amount of time it would take for that group to return. We were getting pretty good at it and having lots of fun. Only two people in all the fun we predicted would make it, but we knew their tight pretty clothes would never look the same again. After the cave we decided to find a library. It turns out libraries have free wifi and we have not been able to find that on our trip so far. We found a library and spent a couple hours setting up blog posts and texting with Jodi. It was great finally checking in and hearing that the family is well.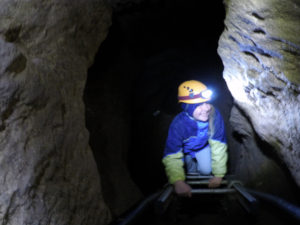 Sydney's Take:
I loved going caving and seeing the glow worms up close! The big swimming pool puddle in the cave that we had to walk around was really cool. I almost fell in the water. There were a couple ladders in the cave too, that were awesome to climb up so that we could do different levels in the cave. There was a super skinny ladder that was just my size (daddy's pack got stuck climbing it). We saw a lot of people entering the cave. They thought the cave would be really easy, but quickly found out that they were not prepared. Another fun thing was all the sheep on the hills around the cave. Cross creek is still my favorite adventure in New Zealand so far!