Socca Smiles

Socca Overlook

Kozjak Bound

Climbing

On the path

Dropping in

Hanging out

On Rappel

Ready..Set..Jump

Like Father Like Son

Beautiful

WOW

In the heart of a canyon

Closing In

Narrows

Hang Time

Smile

Loving the light

The Finale

Cheers

Last Rappel

Walking back
Our day started with a full night's sleep, thank you Jesus! Still learning how to navigate all the rocks the tent is placed on top of. We will spend the time next camp, no matter what all is going on to place the tent well. We got to eat cold oatmeal while overlooking the river which runs through camp. People around here do not start eating dinner until 10:30p and many bottles of wine later finish off the night pretty late. We go to bed around 8p and then are up by 6:30a, so we get a couple hours to ourselves in the morning before the camp starts stirring.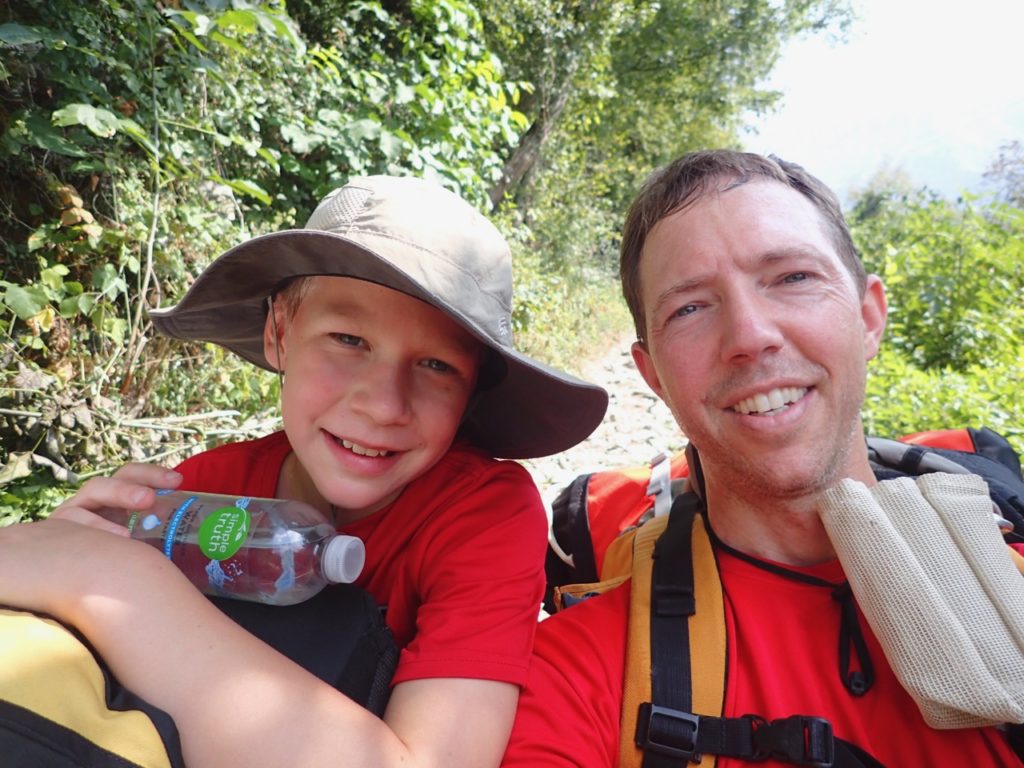 It was a canyon day, so we picked on that was supposed to be fairly easy and beautiful. It definitely delivered on the beautiful part. The easy part is probably true too, if I were in Alp shape. I was feeling the fatigue climbing the mountains this morning and enjoying the beauty as I panted. There was a commercial group before and behind us when we started pulling on our gear. I did not want to get in there way at all, so we tried to be as invisible as possible. We did the entry jump and then waited. Then we got to the next rappel noticing the both commercial groups were now in front of us (the one snuck around a back way to get ahead) and waited. Then we got to the next rappel and waited 30 minutes. I was starting to think this waiting thing is because someone is praying for patience for us today. We decided to just bask in the place the Lord had us and waiting became fun. As soon as it became fun the waiting was over, both commercial groups put it in overdrive and we never saw them again. Almost like we had a lesson to learn. What a great way to learn it.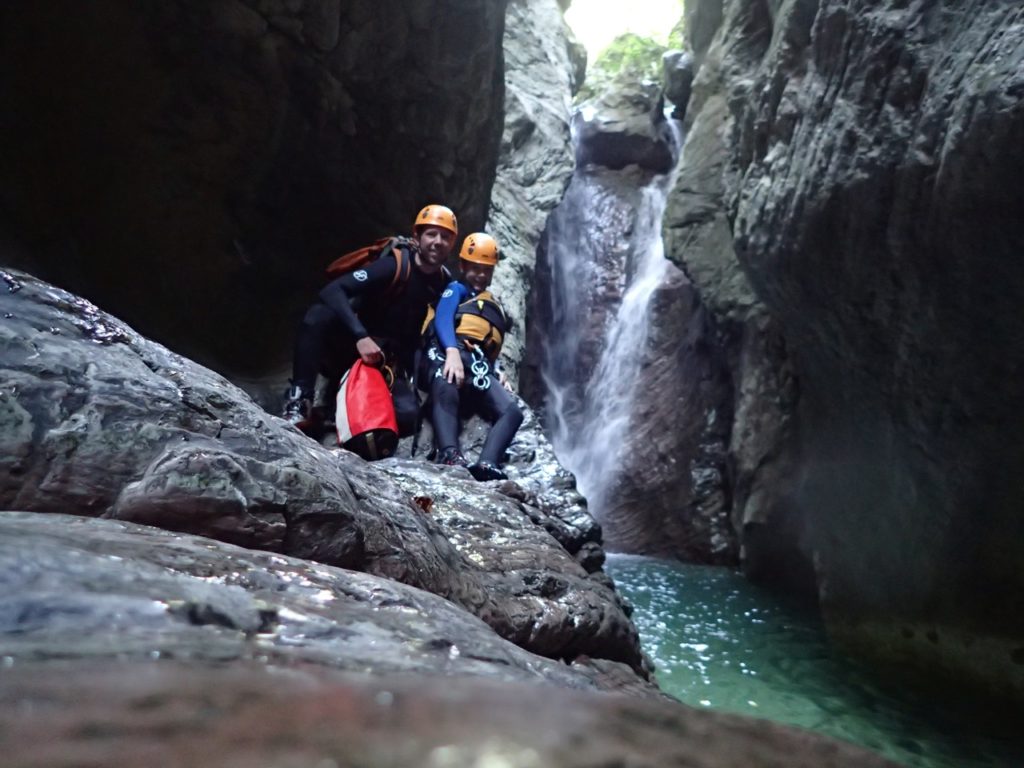 The canyon was full of jumps and six gorgeous rappels. The water was beyond beautiful. I just don't think we can get enough of the water clarity here. All the information we had on the canyon said that it would be very cold. We brought two wetsuits a piece, two sets of neoprene socks, gloves, hats, etc… all to stay warm. The air temp was 90 degrees and the water temp was only in the 50s. We only wore one wetsuit and were very comfortable. It was the perfect canyon to get us into doing canyons in the Alps. Many will be a step up from what we are used to and it feels good to baby step our way into them. Elijah was amazing, as he went first on most everything to test out the force of the waterfalls for us. What I loved about this canyon was it was a loop hike and put us within 10 minutes of the car when we finished. The thunder and lightening started as we reached the car. Then the rains came. They have not stopped yet. It should be a fun night camping, just hoping our rocky tent placement drains well.
We got one more lesson to round our day out. At camp it was still raining, so we took the time to hang up all of our wet gear under the shelter near our tent. These shelters were created to allow people to eat, dry their things in the rain, and build a fire if desired. We intentional camped about the back of the campground where very few people where. We had this shelter to ourselves for days and I thought this night would be no different. As soon as I had all of our things hanging to dry and couple showed up. They were camping in the main campground and had walked past three other similar empty shelters to get to the one we were at. He started getting the fire pit ready. The fire was right under all of our hanging gear, which were wetsuits and other things that would melt. He told me he did not care if our stuff was there as it would not impact his fire. He had every right to build a fire there, but my heart was not in a great place as I then had to quickly get all of our gear down before the smoke started. I had Elijah pray for me as I was pretty grumpy as the smoke filled around our campsite. The Lord was letting me know that I still have much growing to do.
Elijah's Take – We woke up with a good night's sleep and started our drive.  We parked and started hiking into the canyon.  The hike into the canyon was beautiful.  Once we got there, the canyon started off with a 20+ foot jump and then we kept on jumping/sliding/rappelling our way down.  I did one slide that dad did not do and it was super fun.  Hiking out we got the car just as it started to rain and it hasn't stopped yet.