Camp time

Hungry?

Ready..Set..Go..

Tandem surprise

Let's go boating

Scenery isn't bad either

Love the water

The mountains are amazing

Slovenian's views

Never gets dull

Start the young

Takeout time

Let's go without the boat

At camp

Just a stroll

Socca Fun
Our morning started off pretty slow as the night was so long. We went to bed at 8p, but woke up at 11p and were not able to get back to sleep until 3a. I think the time change is impacting us a little or it may have been that rather large rock in the middle of my back reminding me to do a better job placing the tent. I fought to stay asleep until Elijah could not longer stand to be cooped up and at 8:30a we were moving. We went to play in the river at the campground for a couple hours and then at 10:30a started making our way to the Prijon Center to rent a tandem whitewater kayak called the Topo Duo.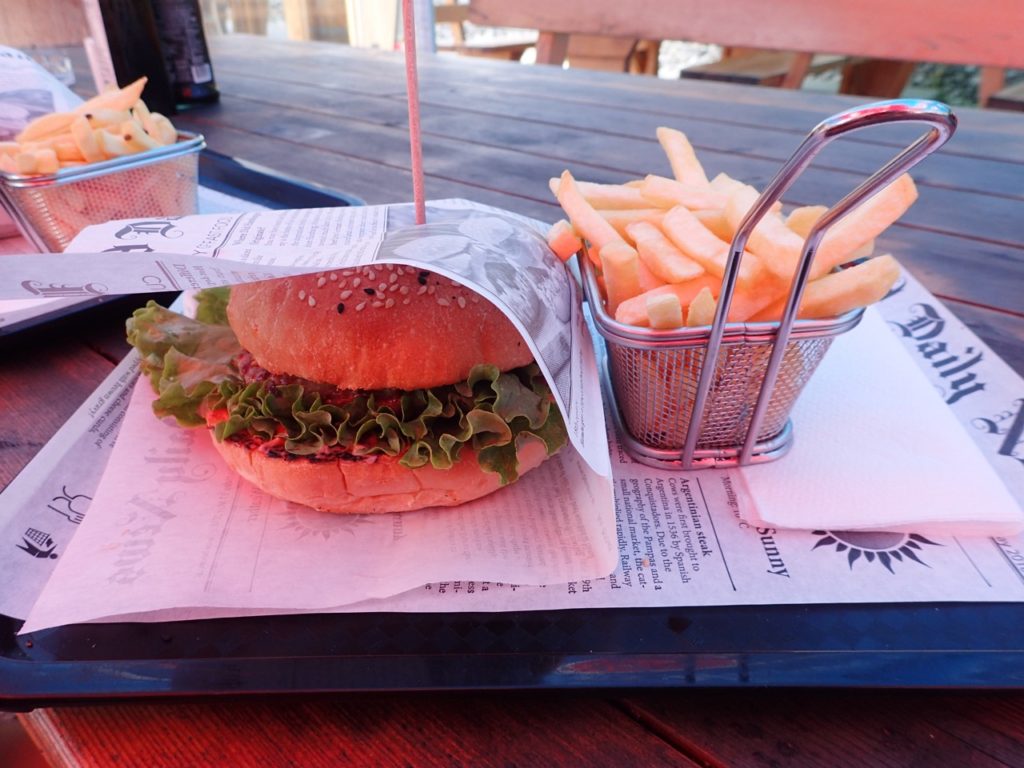 Elijah's stomach started telling him he was hungry on the way. This boy is always hungry. When we eat he is not able to eat a large portion and then he is hungry again in an hour. We stopped at a side of the road restaurant and order two burgers with fries. I had no idea the would be the size of the plate. I worked hard to polish mine off, pushing past the pain, but Elijah was barely able to put a dent in his burger. We wrapped it up and brought it with us, knowing he would be hungry again in an hour.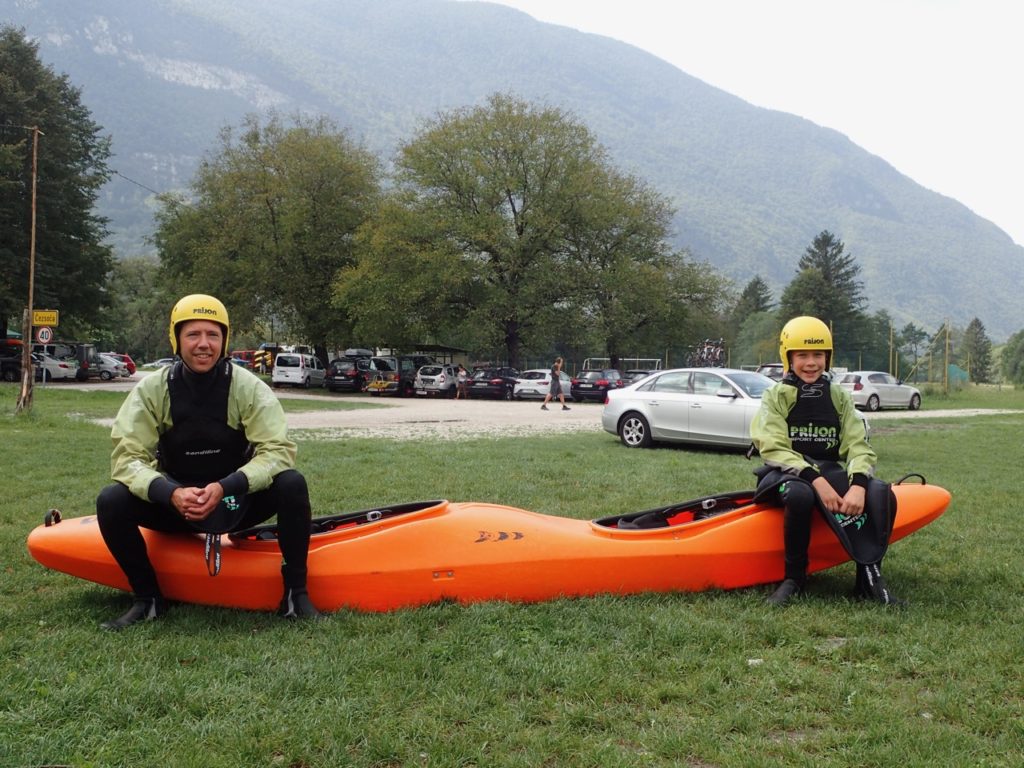 At the Prijon Center we easily rented a tandem boat. I thought it would be harder to get on the water alone, so I had sent them pictures before the trip of some of the whitewater Elijah and I had paddled in the tandem. It was super easy to get a boat. All we had to do was say we had prior experience and sign a waiver. All decked out in gear I drug the 100lb boat to the river and we jumped in. The water was perfectly clear and the Slovenian Alps were all around us. We had some pretty good class II action as we were alone and I really did not want to paddle hard water with Elijah and no safety boater. We went through one section where we met about fifty other kayakers, the cutest was a three year old little girl who was also in a Topo Duo with her dad! This kid was doing some pretty fun water for her age and you could tell she was completely comfortable.
I was not sure where we should take out. We were given a map and directions, but all the large white stone beaches looked the same. I met another group and asked the guide if we were in the right area. He told me to just follow his group as he would love to see us in the harder whitewater with the tandem boat. It turns out that if I would have followed him we would have started doing class IV to the next takeout. Then we would not have been at the right place to take out and I would have had to lug the 100lb boat up several flights of stairs, instead of taking out at the water's edge. We were praying and came up upon a group of Italian women sunning themselves. I had a lot of fun talking with them in Italian with my map and was pretty sure we should take out there after lots of laughter. Then they even let me use their phone to call our ride and laughed hysterically when I did not dial the 00 international prefix because their phone was Italian and I was calling a Slovenian number. I was happy to join in the laughter and we had a great time.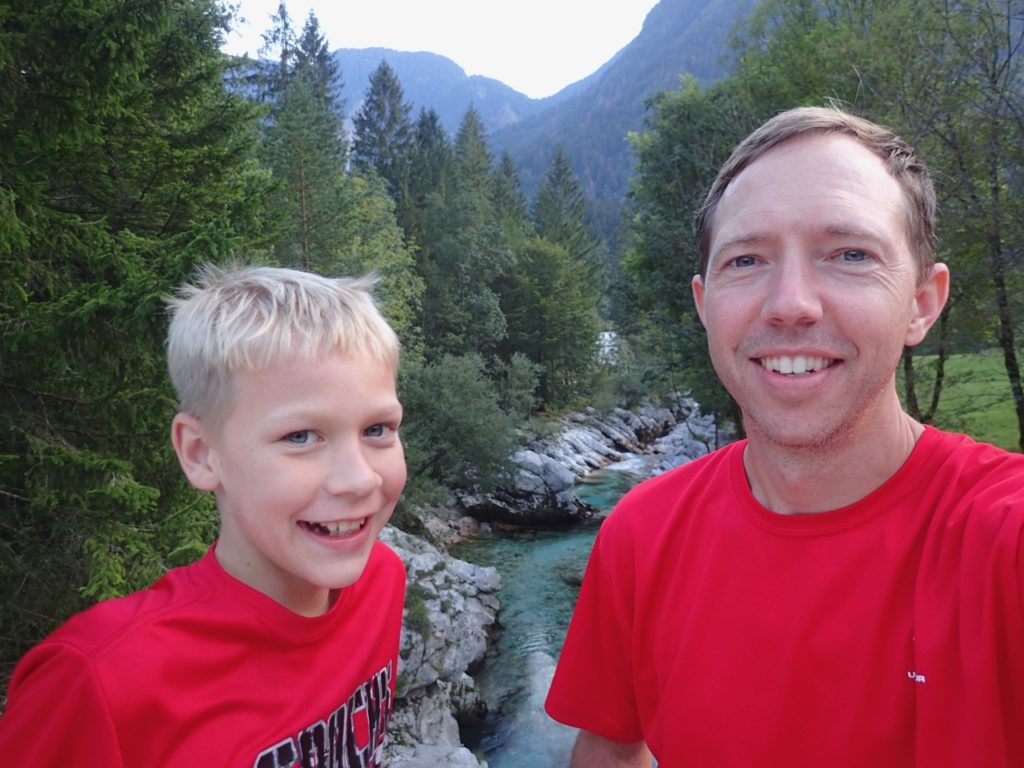 Back at camp we started walking along the river and found several other beautiful waterfalls and narrow canyon gorges. We also had homemade mushroom soup. I told Elijah tomorrow I would be order their homemade salami and sheep cheese plater. All ended well and we are looking forward to a full night sleep.
Elijah's Take – We got our Topo Duo tandem kayak and suited up.  We started kayaking down the river and the water was so pretty, crystal clear.  We did some rapids, but nothing huge.  I enjoyed it very much.  We got out of the river and picked up by a car, which was nice.  Then after giving back all the gear we drove home.