We were debating if we should make the five plus hour commitment to drive down to Milford Sound or not. I asked several people and everyone told me that it was a must do part of any trip to the south island, so we kept it in the plans. We are so glad we listened to those who had gone before us. Milford Sound turned out to be our second favorite experience, following Cross Creek. Words are hard to describe the place, just think thousand plus foot waterfalls all around you streaming down through the mist. Think lush green jungle vegetation. Think monstrous zooming buses that drive at break neck speeds down twisty turny two lane (really one) roads, with serious consequences for a tire dropping off the road. I was amazed that the road was not littered with bus wreckage. To get into the Sound, you also have to drive 600 meters through one of the mountains.
When we got there we were going to try to do a kayak trip. I had talked to them on the phone and they would not allow us to book a trip because Sydney was under fourteen years old. I thought I might be able to do better in person, but the place was so crowded that we were fortunate to get the last parking spot. The wind was also howling. We would be fighting a 20 knot wind in the kayaks and we would have to give up our parking spot to go to where the kayak rentals were located, so we decided to go try to get tickets on one of the boat tours. I was able to talk Juicy Cruises into giving us a deal and within ten minutes we were cruising Milford Sound with about 30-40 other people on a boat that could hold several hundred. We have found most tourists here are from China, so most of our interaction with others has been very broken english.
It had rained recently so there were waterfalls everywhere! The captain was a great guy and kept begging everyone to get outside and enjoy the views. We stayed outside and two bottlenose dolphins came up right beside us to jump the wake of the boat. We watched them for five minutes before letting other have our spots. We also got to see sleeping male seals. The captain said they basically eat and sleep until they are big enough to handle the ladies. The views were stunning throughout our tour of the fjord. We found out that a fjord is carved by a glacier and a sound is carved by a river. We the guy who discovered this area named it, there was not an english word in existence for what it was, so he called it a sound.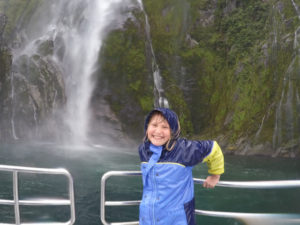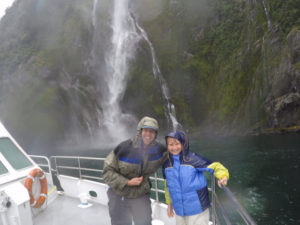 The part Sydney LOVED the best was the waterfall plunge. The captain dared the adventurous ones to stand on the front of the boat while he put it under Sterling Falls. Sydney was the only person who stood on the front and leaned into the falls' full force. Two other guys were out there with her, but when the full force came they looked away. Sydney was so JOY FILLED that she was literally bubbling, even gushing, as she relived the experience for me. When she is full, it is such a beautiful gift to see her excitement with life. Many people commented on watching how she leaned into life and soaked it up deep. When we got back from the boat my big adventure was unparking! Most of the tourists drive motor homes here and they park them in regular parking spaces. So, two of these monstrosities sandwiched our car into it's space. I literally had five inches on one side of the car to deal with as I threaded the needle to free our claustrophobic automobile.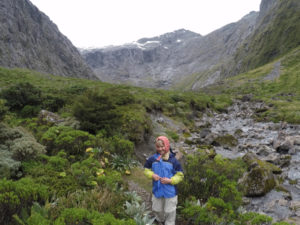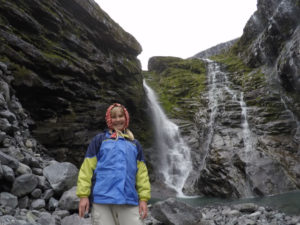 Free at last we drove back up the road and through the tunnel to Gertrude Saddle. There is a very famous hike here that takes you up on top of the mountains overlooking Milford Sound. It is a four hour hike and was on our to do list, but we got there too late to finish before dark. So, we went half way up to the waterfall, before the final assent. It was all glorious. There was so much beauty that praise songs were literally pouring out of us. God is so good and his creation sings his praise! Sydney was such an incredible trooper on the hike too. The Cross Creek canyon hike the day before had stomped her energy pretty good, so I was not sure how she would fair on this more difficult hike. I gave her a goal she could see and she was all over it. She did it and had much more energy left over than the day before! We left Milford Sound full! Full of God's blessings.
On the trip back we got stuck in a very long line of traffic. When we finally found the source of the traffic we prayed God's protection over all involved. One of those monstrous buses that I had been so mesmerized with that morning and how there were not countless crashes resulting from the way they drive those roads, had let one of it's wheels drop off the road. It over corrected and launched into the air (literally) on top of a car in the opposing lane. Both vehicles burst into a ball of flame. The bus driver and the seventeen Koreans on the bus escaped with their lives. The screaming people in the car under the bus did not. When we came by it was all just a blackened wreckage, where you could barely tell what types of vehicles were even involved. It was a somber reminder than everyone of us has an time appointed to meet Jesus and it is our duty to be ready and tell all those we love how to get ready too. In Romans Paul tells us that if we confess with our mouth the Lord Jesus and believe in our heart that God raised him from the dead, you will be saved. God does all the heavy lifting for us, all we have to do is believe. Are you ready? This opportunity gave Sydney and I a chance to discuss if both of us were ready yet. Sydney gave her heart to the Lord and is ready. There is no greater joy than teaching/leading/knowing your children walk in truth.
Sydney's Take: I had a super fun adventure today! When we were on the boat in Milford Sound, the captain told all the adventurers (that is me) to stand on the front on the boat and he would put us under a waterfall. While the captain was getting the boat setup I was thinking if my family was here, this is what they would say.
Mommy – "Time for coffee!"
Kendall – "Let's take a video from inside, so I do not get wet."
Tirzah/Hosanna/Mercy – "We'll follow mommy and see if she will give us some coffee."
Daddy – "Have fun!"
Chloe – "Sydney/Elijah, let's get out front and go right under the waterfall."
Elijah – "YEAH!!!"
Sydney – "Oh YEAH!!!"
It was such a fun experience! We got to see dolphins and boy seals (sleeping). We got to get tea. I put three packets of sugar in my first tea and four packets in my second cup (daddy found out later). The boat did not have very many people on it. Daddy said that in the peak season it would have been standing room only.
I like the Gertrude Saddle hike. One part felt like it was a jungle. If we would have had more time we would have summited to overlook Milford Sound. This would have let us climb out on the ice fields. We did not have enough time though to do this and get back to the car by dark. Milford Sound is two hours from the closest town, so it takes a lot of driving to get there and get back. The waterfall was so cool, I loved hiking up to it. We took pictures and then followed the creek back down the mountain. We only saw a few people on our hike. The bathrooms were too smelly to use, so we drove further down the road to others. Our camp was really nice. We found a rock hammer to help us drive our tent stakes in the ground. We stayed up late. I sure was glad to get to bed afterwards, because we were tired after all our fun. I am still missing everyone.