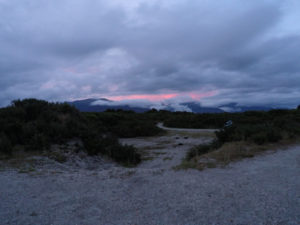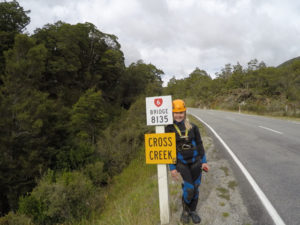 Marvelous! Glorious! Stupendous! "Look and see what the Lord hath made, rejoice, and be glad in it!" Waking up on Haast Beach on the Tasman Sea to a magnificent sunrise over the mountainous jungles of New Zealand's South Island was a great way to start our best day yet! After packing up camp we walked the beach picking up pebbles and swimming through sand gnats. Sydney really wanted to swim, but the waves were pretty impressive and neither of us liked the idea of getting smashed by one. We found lots of sticks and pebbles before making our way up Haast Pass to our adventure for the day, Cross Creek.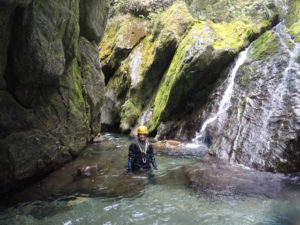 Close your eyes and imagine a lush forest carpeted with vibrant green thick moss on large ferns. The trees are covered with moss and tree root balls spring up everywhere. Sydney loved to lay on the moss beds as we hiked in to the drop in point for our canyon. The water was crystal clear, so you could see every rock and tree underneath it, no matter how deep. Waterfalls were everywhere. Waterfalls to slide off of, waterfalls to climb down, waterfalls to rappel. It was waterfall heaven and we were praising God for His majestic creation all day long. The Lynch family was praying that we would see God's handiwork today and WOW did God show up and blow us away with His beauty. Sydney and I just could not stop talking about all the Lord had made.
Now imagine swimming inside of an ice cube. We were wearing 7mm wetsuits, neoprene gloves/socks/hats, and helmets. With all of this Sydney was still getting a little cold, so we had to keep moving to keep her warm enough to enjoy herself. We lost count on the number of rappels (~8-10 rappels we think). I decided to lower Sydney down all the normal jump spots and then I would jump. It was very important that both of us be super careful as any injury would turn into a big deal with the water being so cold.
For hours we rappelled, swam, jump, and slide our way down the canyon. When we were finally at the end, I decided to test our cold the water really was. So, I removed my helmet, hat, and gloves. Then I plunged my head under the water and stayed there for a bit. I got an incredible ice cream headache, where my whole head went numb and I was not able to feel my hands. Sydney and I were both laughing having a great time with it. I gave Sydney the option to do the canyon again the next day or step things up to another level with a different canyon. Sydney decided she was ready to see the famous Milford Sound, so we started the long trek south. We drove for a number of hours and found a wonderful camp for the night. We hung up all our wet canyon gear and prayed that it would not rain that night. It has been raining every night, but that one was rain free and we woke up to dry gear. After we put all the gear away and packed up the camp, then the rains came.
Sydney's Take: I LOVED THE CANYON! The hike in was LONG (20mins) because I wore my wetsuit and it restricted my movement while climbing the steep hills. The water was so so awesome. The waterfalls were WONDERFUL. I wanted to go farther down the canyon, but dad made us stop because we had reached our car. We saw so much of God's handiwork through his creation. This canyon was a completely different world from anything daddy or I have ever experienced before. Christopher will never be the same. I still miss everybody and am excited to see you again.