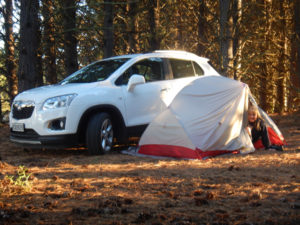 After twenty-four hours of non-stop travel Sydney and I are finally settled into a nice cozy campsite that was literally a gift from the Lord. We are nestled in grove of fir trees overlooking a glacier blue lake. Amazingly, we have the place to ourselves too. You have to know exactly where you can camp here because there are heavy fines when caught doing something wrong (like a $10,000 fine for using the bathroom in the woods). It was a real wake up call trying to bath in the lake. I thought I would plunge in and bath quickly. My plunging only made it to my knees as they went numb before I could completely commit to a full body experience. I was proud of myself for at least washing my hair though.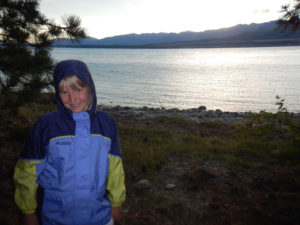 So far New Zealand is a non-stop learning experience. We bought $7 matches and a $15 gas canister that I was told would fit my cook stove, which does not fit the stove by a minuscule amount making it unusable. The driving is easier than I first thought it would be, but only because a friend loaned us a GPS. The GPS tells us where to go and all I have to do is worry about staying on the correct side of the road (which the GPS will also bark at me if I cross the line, even when passing, to help keep us safe). Sydney has been a trouper with all the travel and lack of sleep. We are trying to keep ourselves awake until at least sun set, to try and get our bodies on NZ time.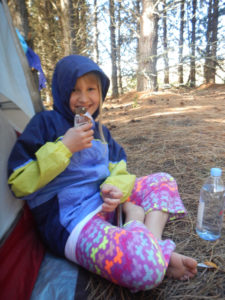 Sydney's Take –
I loved being on the plane from Auckland to Queenstown. The scenery was so pretty, with the snow capped mountains. When I got to the rental car, I decided I liked the airplane much more than the tiny, claustrophobic car. I love where the car is taking us though. The Lake Tekapo is so fun. I got to wade in the water, collecting rocks. The fir trees are beautiful and the lake simmers. Daddy just got bit by our first sand gnat. I have not been bit yet, but am sure I do not like sand gnats. I miss all of you!